Good morning Jr/Sr High parents/guardians, We have some announcements for this week. Parent/teacher conferences are this Thursday night (Oct. 5th) from 3-6:45pm (no appointments necessary). There will also be an 8th Grade Washington D.C. trip parent/guardian meeting on Thursday night (Oct. 5th) at 5:00pm in the HS cafeteria. **Also, we have a new email address for attendance reporting. You can email
attendance@nwlschools.org
to report a student absent or tardy. Thank you!

Congratulations to our New Carlisle Rotary Students of the Month- Becca Martin, Citizen of the Month and Logan Pirk, Student of the Month!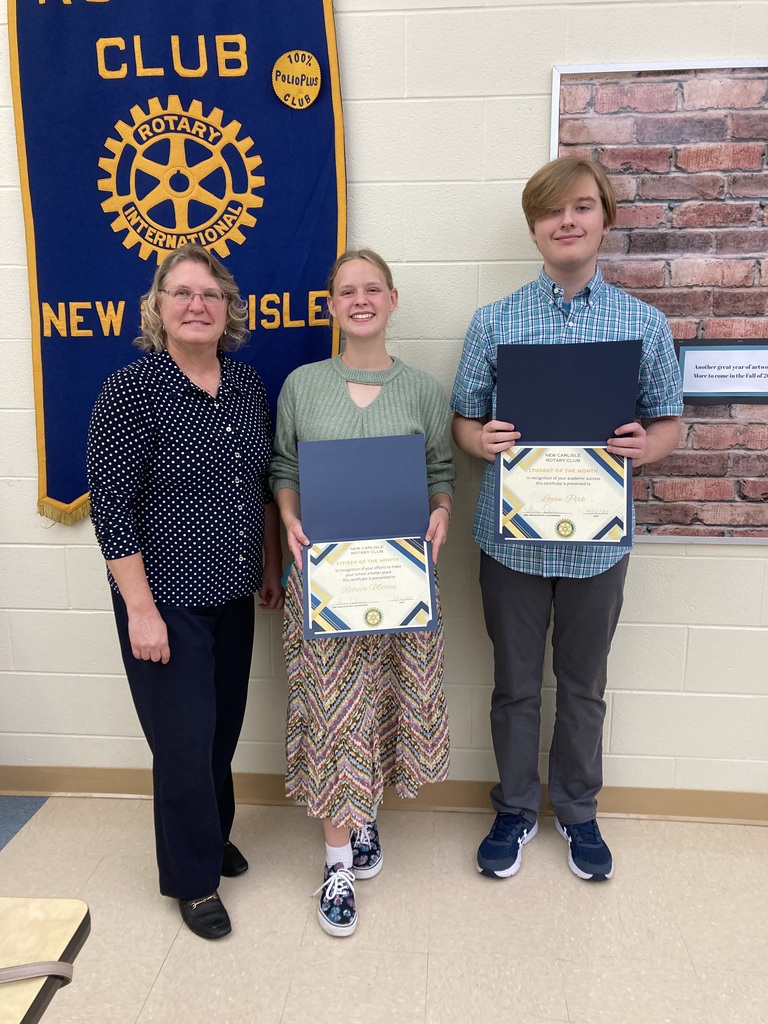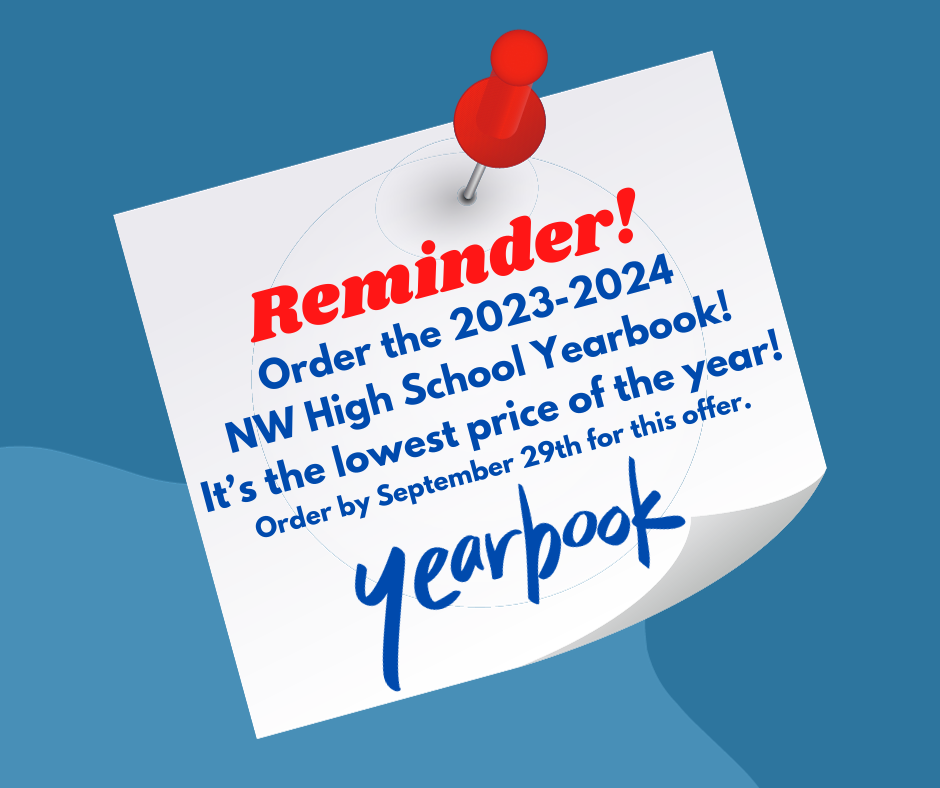 Good morning parents/guardians of NW Junior/Senior High School students. Your student should have received a parent consent/opt out form for a survey to be given Tuesday, September 26th. This survey is given every other year, and Youth Risk Behavior Survey (YRBS) results help monitor adolescent health behavior changes over time, identify emerging issues, and plan and evaluate programs to support the health of youth. YRBS data are used by health departments, educators, lawmakers, doctors, and community organizations to inform school and community programs, communications campaigns, and other efforts. More detailed information about the survey can be found at:
https://www.cdc.gov/healthyyouth/data/yrbs/why-yrbs.html#print
. Opt out forms are due before the survey is given during Pride on Tuesday, Sept. 26th. Parents/guardians may also email
sullivanp@nwlschools.org
to opt out their student. Thank you!

This is a friendly reminder to junior high and senior high school students: tomorrow, September 14th is school picture day!
Attention Juniors! If you need your Class Ring Resized there is a form and sizers in the main office at NWHS. Also, remember that if you put a picture on the side of your ring and you want it changed, it's FREE to change one time! If you have not ordered your Class Ring yet now is a great time! Check out the deal below!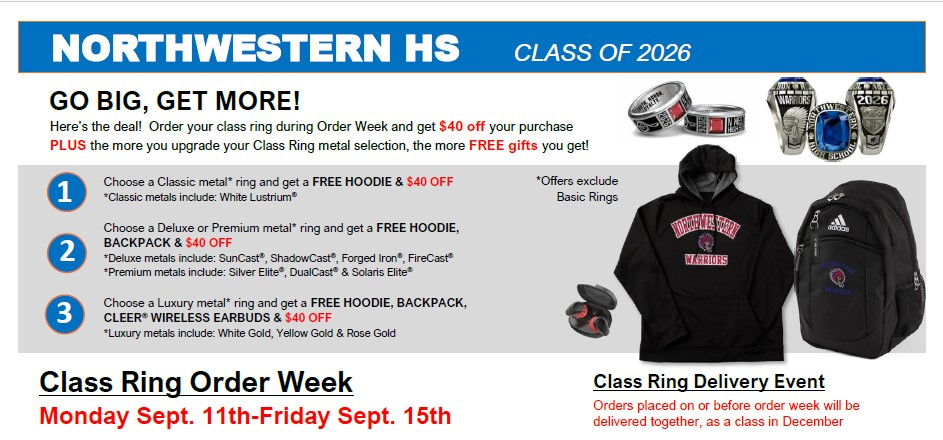 Jr./Sr. High School Picture Day is September 14th. Students can pick-up an order form in the high school office or they can be ordered online at
https://m-e.co/T4VDDDXRYWG


Hello Warriors! Mark your calendars. The annual Clark County College Night will be Wednesday, October 25 from 6:30 - 8:00 at the Hollenbeck Bayley Creative Arts and Conference Center. The Hollenbeck is across the street from the Springfield Public Library and beside the Kuss Auditorium. We hope to see you there!

Attention NW Junior/Senior High School students and families: all afternoon events and activities, both athletic and non-athletic are canceled for this evening. Students will not be staying after school or coming back to the facilities for any event or activity this evening. Thank you so much for your understanding. We appreciate you.

This is a reminder that Open House for students in grades 7-12 is tomorrow, Thursday, August 17th from 4:30-6:30. All junior high and high school students can also pick up their schedules at that time. Any student who is unable to attend and get their schedule at Open House may get theirs on Friday, August 18th and Monday, August 21st from 6 am-11am and noon-2:30 pm. Have a great evening, and we can't wait to see all our Warriors soon!

Happy Monday, Northwestern Junior/Senior High School families. This is just a reminder that our 7th and 9th grade orientations are this evening in the cafeteria. The 7th grade orientation will begin at 5:30, and the 9th grade orientation will be at 7:00. We hope to see you here!
Attention Students! Parking Passes go on sale this week. The schedule is as follows: 8/15 - Seniors (6-8 a.m.) 8/16 - Juniors (6-8 a.m.) 8/17 - Sophomores (6-8 a.m.) Each student must have a completed form with a parent signature. You can find the form on the website by searching parking permit.



Hello Parents of students who have signed up for CCP classes at Northwestern. Please have your child check their email to see if they need to complete any steps to earn CCP credit. Only students who have not completed the process have been emailed. All applications and placement testing requirements must be done by the first day of school. Take care.

The class of 2023 graduates this evening! Doors open at 6:00 pm, with the ceremony beginning promptly at 7:00. Guests, please enter through the activities entrance doors.

Attention class of 2023: The senior breakfast will be at 9:00 am Thursday, May 25th, 2023 in the cafe. Graduation practice will immediately follow at 10:00 am. It is CRUCIAL that all seniors be ready to practice by 10:00 am.
Attention Jr/Sr High Parents: If your child has any type of medication in the clinic, it will need to be picked up no later than Friday, May 19th at 3pm. Thank you!